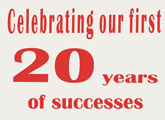 Technical Capabilities and Capital
The GAIA EXPERT Research & Consulting Group FRANCE-CANADA is the owner of offices in the downtowns of Sofia, BULGARIA, Lyon, FRANCE and Montreal, CANADA
GAIA-EXPERT Research & Consulting Group owns also:
Computer system of more than 12 computers connected in a network for operability and
simultaneous using of the of the ready software and data base covering its
overall professional experience and specific information systems for legal
issues (APIS), immovable properties, machinery and equipment, statistics of
basic economic groups, etc., as well as computer specialists for serving the network.



Software packages and know-how for valuation of the economic efficiency of
investment projects for the construction and mining industry, calculating
parameters as: NPV; IRR; PBP; Net Cash Flow - NCF; Present Value of Revenues - PVR;
Discounted Return on Investment - DROI and Risk and Uncertainty for Investment through
simulation methods (Monte Carlo, Theory of Decisions, Option Pricing), also used
before in other activities of the Company.



Own multiplication machines - Canon and Toshiba;



Seven cars for visits to the projects and operability of the teams.